Lily & Ike

Lily and Ike were my first pair of cockatiels; I've had them just about a year now.
Ike is a whitefaced pied split to lutino; Lily is a whitefaced lutino, AKA albino.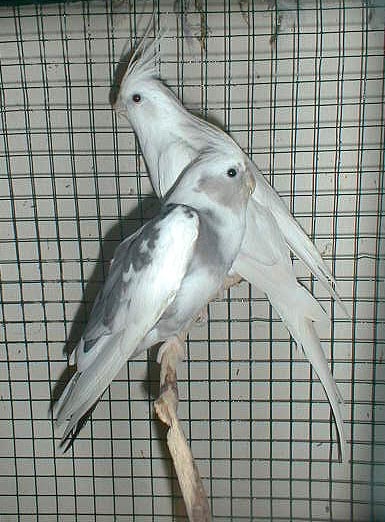 Lily is a stunning bird; snow white from crest tip to tail tip, and not a feather out of place. Ike, on the other hand, is apparently unable to keep an entire tail in place. It looks a little better than it does in this shot, but not much! He is awfully cute, though.
Lily and Ike are qutie prolific, and will breed whenever I put a nestbox up. So far they've always given me 3 or 4 fertile eggs per clutch, one of which has always been an albino, the rest of which are whitefaced grays split to pied; males are split to lutino.