The doves are "Dove", the female, and "Pigeon", the male. I wasn't feeling horribly imaginative when I named them! Pigeon is a normal pied; Dove is a Tangerine pied. Both are gorgeous birds.
I got Dove as a mostly impulse purchase at a bird fair in April '98; I'd been thinking of adding doves, probably Diamonds, but Dove was just so pretty I couldn't pass her up. I looked for about six months for a male dove, until I ran across a breeder at another bird fair; she had a cage just full of males, about 10 of them total. One stood out as the largest and best-looking, and Pigeon came home.
Dove lost the upper half of her beak; I believe one of my pet rats grabbed it through the cage bars. It's grown back somewhat and isn't horribly noticeable, and she has no problems eating or drinking.
Typical of doves, Dove and Pigeon are extremely prolific, and would breed constantly if I let them... And sometimes try even if I don't "let" them! They once laid eggs on the bare wire of their wire nest after I had removed the newspaper that usually lines it and any traces of nesting material in the cage. Sheesh!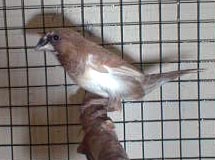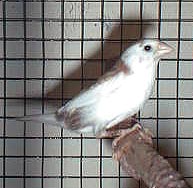 The female Society is a Chestnut pied named Toronto; the male is a Fawn pied named Vancouver. I bought both from a local pet shop, after spending about a half hour just sitting and staring at their finches... I was trying to find a pair that I believed were male and female, but I must have seemed pretty strange to the shop owner! I only added them recently, on April 28th.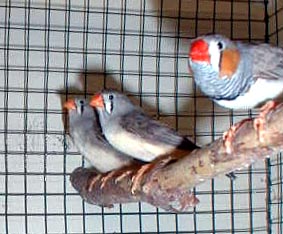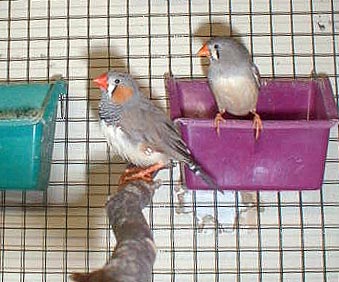 The Zebras are: Dingo, a lightly pied male; Kanga, his normal mate; and Ruff and Roo, both normals. Kanga and Roo I got from a breeder; Dingo and Ruff I got from the same shop at the same time as the Societies. That particular shop gets their finches from a good source - they're all nicely feathered and healthy birds when they come in - but unfortunately the store seriously overcrowds them and they end up resorting to plucking each other's feathers out. Ruff in particular was a victim of this, and is missing feathers from his flanks, back of the neck, and vent area; hence the name! I expect he'll be a handsome bird once he gets all his feathers back in, though!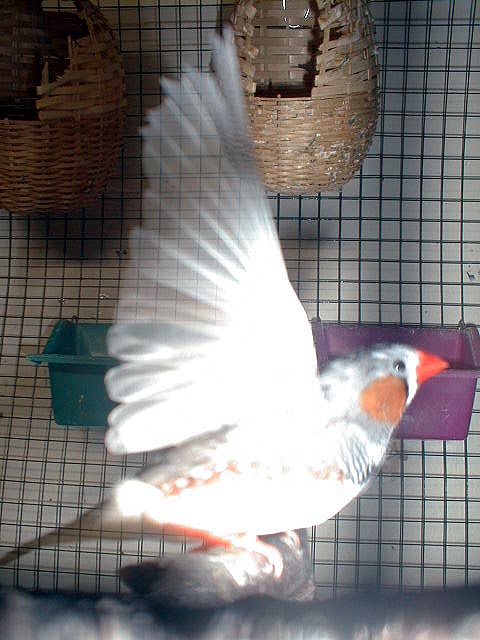 This is Dingo, the pied male. He's a bit overbearing, and tends to chase after the other Zebras; I separated the two Zebra pairs until I move and can add a large flight cage to house all the smaller birds.