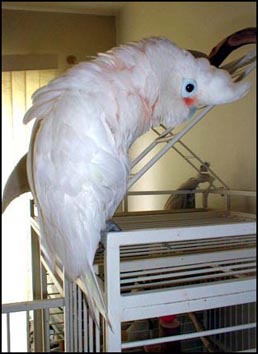 Allie, like Budddy, came to me under special circumstances. She belonged to a lady that thought about breeding her, but decided against it... Probably a good decision, since from my experiances Allie is extremely imprinted on humans, and would much rather have nothing to do with other birds!

The problem came when her owner, Shelia, decided not to breed her, but niether had tito spend on her as a pet. Allie started chewing and plucking her feathers, and Shelia started really looking for a home for her... She was worried Allie would start chewing into her skin and mutiliating herself, which cockatoos are prone to do. When she DID find sore spots on Allie's chest and under her wing, she naturally started getting a little frantic about getting Allie into a home where she'd get the attention she so obviously wanted. That was pretty much how I ended up with her!

Allie has done just wonderfully here. Her sore spots healed quickly, and she's grown back most of her feathers, though she's still rough looking because she hasn't molted the chewed feathers... Still, she looks better than in these pictuers which where taken not long after she came home. Even more than that, she just seems happier and more well-adjusted... She still craves attention, but she seems less frantic to get it, and spends time alone better.

Allie is by far the cuddliest, most attention demanding bird in my flock. While Goffin's have a reputation as being more active and less "velcro-like" than most cockatoos - Buddy certainly lives up to this reputation - Allie, on the other hand, must be an exception! If I were to give her a choice, she would happily spend 24 hours a day with me, being petted and cuddled and loved.